Origins of a Champion Team (Part II)

What makes a championship team? Common goal, commitment, complementary roles, clear communication, consistency, constructive conflict, cohesion, credible coaching, continually work to improve, positive attitude, visualize success, disciplined, learns from mistakes, surrounded by positive friends, avoiding negative influences, excellence in goal setting, passion for winning, persistent, enthusiasm for the game. John Wooden listed 15 traits that led to success: industriousness, friendship, loyalty, cooperation, enthusiasm, competitive greatness, poise, confidence, condition, skill, team spirit, self-control, alertness, initiative, and intentness. I'm certain that possessing many of those skills, traits, and qualities will significantly improve your chances to win. Or picking up the best players possible?
As promised, here is the follow-up article. I am going to provide a comparison of the 10 division 1.1 champions that were used for last week's article. In addition, I will provide you with USA and Canadian champions and for snickers I also listed canucks357 and my data. So, take a look at the following tables. I hope at the least they are food for thought.
Top Teams from 10 Top Ranked Countries: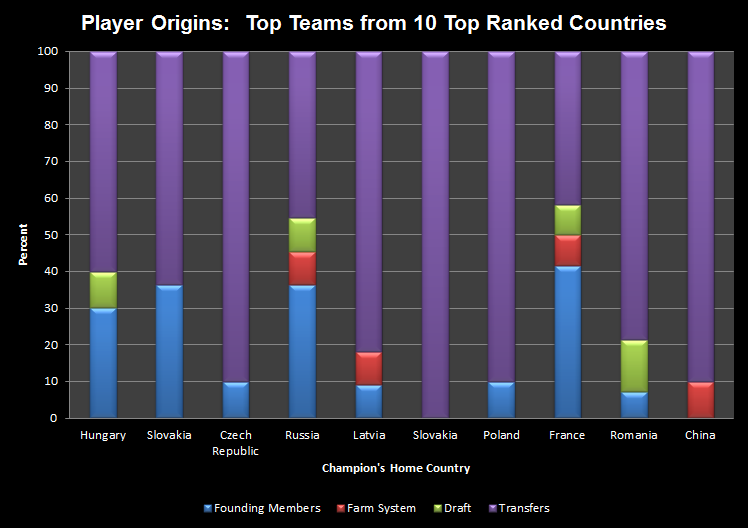 Looking at the top 10 division 1.1 champions tells me one thing immediately. The best teams in basketball (as of the end of season 6) are loaded with players obtained from the market. Only 4 teams used any players developed in their farm system; likewise, only 4 teams were using players obtained from the draft. 6 out of 10 teams were still using players who were with the team from day 1 and only 2 teams had players obtained from all categories.
USA & Canadian Champion Team Player Origins: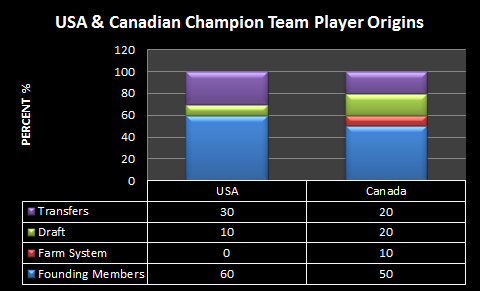 It's easy to notice the trend from the top 10 ranked countries did not as closely match the USA and Canadian champion player origins. Both teams were built primarily of founding members. Also noted, there was only 1 sports academy player on either of the Can/Am champion teams.
Canuck357 & ColdMountainRebel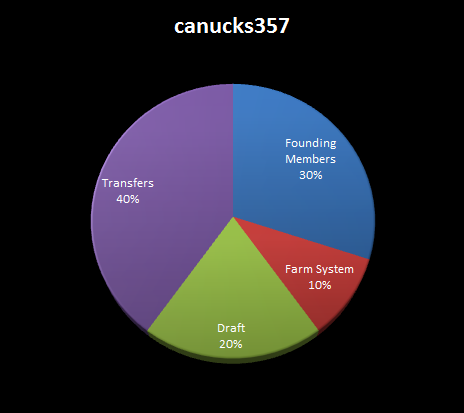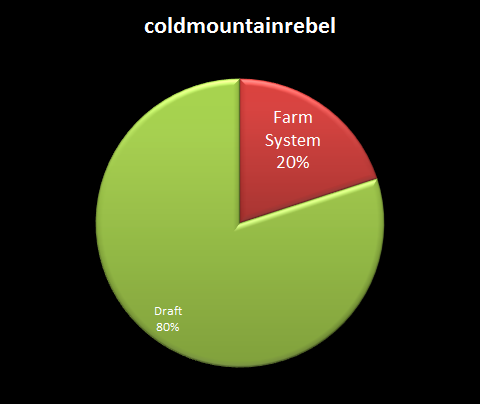 Just for snickers, I provide canucks357 & coldmountainrebel (my) player origin listings. Canucks seems to be in line with others. BUT, look at coldmountainrebel . Wow, I think I must have missed the memo. The top category for the top 10 countries (market) & the top category for the Can/Am champions (founding players) are 100% missing from my team build. I decided back on day 1 to try to build within my farm system. I found all of my players in my farm system or through my draft picks. My players are still a little undersized and in many cases still lacking in experience, but, maybe one day that won't be the case.
So what does this all mean:
I really don't think that I need to add too many additional comments to conclude. This is all based on the end of season 6 and things can and likely will change. So take it for what it is. I have enjoyed ALL of the comments that many of you provided after the first article. Some of you may change the way you are building your teams. Others may, prove in the coming seasons that this was just a mirage from early seasons and prove that the best mix of players is totally different from those found in this article. I plan to stay my course of building my team, with hopes of one day forming the team that I dreamed of on basketball day 1.
By the way, if you haven't read the first part of this article, please go back and read through the comments. Several have awesome thoughts about the game and growth of basketball in ppm. I especially liked several comments by Antsa . Here is a segment of one of those posts, "Think about it. If you could get a great success relying only on your own prospects, the game would be only about luck because that's the most common strategy people use here. Actually, there are still teams who have managed to be competitive in top leagues despite having only starters and youth pulls. Some people say it's unfair how lucky youths they've got but I'm not going to judge them :) .... Very interesting article and it'll be interesting to see how it'll look after next 5 seasons. I bet the portion of founding members will decrease and others will increase. "
I close with two quotes. The first is by one of my favorite scientists, Albert Einstein, whose quotes often lead to wisdom. Al says "I never think of the future - it comes soon enough." The second quote is from the 32nd President of the United States of America, Franklin D. Roosevelt. FDR said "We cannot always build the --future for our youth, but we can build our youth for the future." Regarding the building of my PPM basketball team, I have to believe that Roosevelt provides more wisdom than Einstein. Hopefully a few seasons down the road, we can examine this issue again. Those origins are yet to be known.
Editorial staff
Editors
MaxOo

Categories