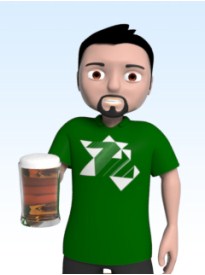 PPM meetings

Trenčín, Da Vinci Art Caffe
10.04.2010 18:00
See who came and download photos!
Meeting
Location: Kľačno, horský hotel Kľak
Date:

2011-09-23, Friday

Organizer: maxo
Local time: 16:00
Number of managers: 28
Forum: -
About the meeting
A 3-day invitational meeting in a beautiful countryside. The meeting was attended by the whole PPM office and managers from Slovakia, Czech Republic and Slovenia. There were various sporting activities such as ball hockey, hiking and table tennis. The inaugural "Midnight Hockey Challenge" under the floodlights was one of the highlights of the meeting. Another one was a hiking trip to the top of the Klak hill. The weather was awesome and we had a really great time.

Trojdňové stretnutie pre pozvaných manažérov v krásnom prostredí. Stretnutia sa zúčastnili všetci členovia PPM kancelárie a manažéri zo Slovenska, Česka a Slovinska. Boli tu rôzne športové aktivity ako hokejbal, turistika a stolný tenis. Jedným z vrcholov stretnutia bol premiérový ročník "Polnočného hokeja" pod umelým osvetlením. Ďalším bola túra na vrchol hory Kľak. Počasie bolo fantastické a veľmi sme si to užili.

Attending managers