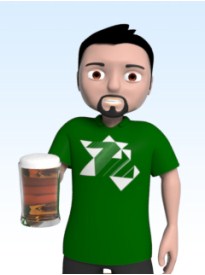 Official PPM page on Facebook

Give a Like to our Facebook page and get the latest news before everyone else.
Meeting
Location: Bratislava, Gogolova 18&nbsp
Date:

2011-05-03, Tuesday

Organizer: maTTko
Local time: 10:00
Number of managers: 12
Forum: Click here
About the meeting
Rozhodli sme sa pri príležitosti majstrovstiev sveta v hokeji na Slovensku zorganizovať 2 dni otvorených dverí priamo tu u nás v kanceláriach PPM, kde nás môžete prísť navštívíť, porozprávať sa, vyfotografovať sa so zakladateľmi a priamo vidieť ako sa hra tvorí. Budeme mať pre Vás pripravené občerstvenie, kroniku a každý kto príde dostane upomienkový predmet.

We have decided to use the occassion of Ice Hockey World Championship in Slovakia and organize 2 open doors days. We invite you to visit our PPM office where you can have a talk or take pictures with the founders and see for yourself how the game is being developed. You can also have a snack, make an entry in a guest book and all visitors will receive a souvenir.
Attending managers