Revisit our classics (Part 3)

Ready for some data?
I hadn't planned at first to give you all these numbers, but I think they are quite interesting. What you have here is raw data. Nothing has been tampered or modified in any way. The home ice advantage is not removed from the numbers shown here. It's 100% pure data.
For each matchup of style of play, you'll find 5 different numbers :
Frequency (F): How many times this exact matchup is used over the course of the 3625 games analysed.
Goals (G): How many more goals are scored by the home team than the away team (goals for - goals against). A (+) number is good for the home team.
Penalties (P): Number of penalties (not minutes) drawn by the home team vs the away team. A (-) number is good for the home team.
Shots (S): Number of shots in favor of the home team. Again, a (+) number is good.
Offensive zone time (O): In percentage, time spend by the home team in the opponent defensive zone. Of course, a (+) percentage is good. In parenthesis, the difference between that OZT and the average OZT (see notes).
The table, as previously, is made to be read from the home team point of view: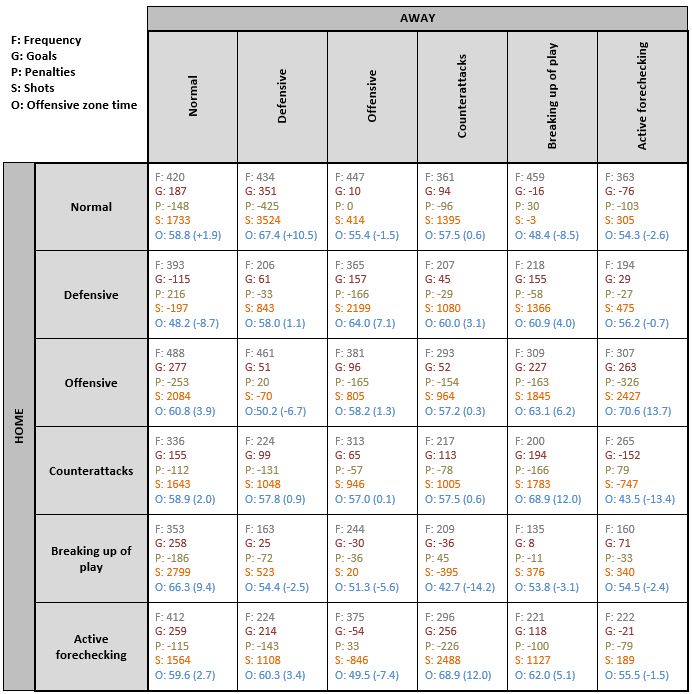 Some notes:
On average, the OZT for home team is 56.9%.
Over the course of all the games analyzed, the home team get 35 shots per game while the away team have 26 shots per game.
These numbers are raw. I don't have the time needed to compute them to a median number (let say a frequency of 100 games for each matchup). If someone has time in hands, feel free to do it and send me the results. I'll publish them.
I'll let you draw your own conclusions. But, for me, there is minimally one thing that I found interesting: a strong correlation exists between goals scored and the other numbers... this simple discovery is in itself a good news! It proves the data manipulator isn't doing too badly so far.
Let us know about your findings.
Dino