Info tentang sukan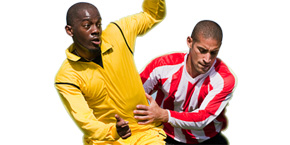 For everyone who has ever dreamed of being a part of his favorite soccer team we bring an on-line soccer manager. Try for yourself what it feels like being a manager of a soccer team. We bring you the chance to choose the right players for your team, to raise your own young talents, to take care of the economy of the club and to create the right lineup and tactics for every match. Don't hesitate and create a team!
Current situation in the sport
Soccer is the second sport available in full version since June 2010.
Ranking of countries according to the number of soccer teams
This chart shows the current rank of your country according to the number of managers signed up for this sport.

Soccer teams in total: 5585 (+21)
| | | | | |
| --- | --- | --- | --- | --- |
| Ked | Negara | Nombor (hari ini) | % | Akhir |
| 1 | Republik Czech | 853 (+4) | 15.3 | 2020-07-03 |
| 2 | Slovakia | 745 | 13.3 | 2020-07-02 |
| 3 | Hungary | 412 | 7.4 | 2020-07-02 |
| 4 | Poland | 369 (+1) | 6.6 | 2020-07-03 |
| 5 | Jerman | 187 (+1) | 3.3 | 2020-07-03 |
| 6 | Perancis | 173 | 3.1 | 2020-06-30 |
| 7 | Rusia | 167 | 3.0 | 2020-06-25 |
| 8 | Itali | 157 (+1) | 2.8 | 2020-07-03 |
| 9 | Argentina | 154 (+1) | 2.8 | 2020-07-03 |
| 10 | Sepanyol | 138 (+2) | 2.5 | 2020-07-03 |
| 11 | Latvia | 132 | 2.4 | 2020-06-26 |
| 12 | Bulgaria | 129 | 2.3 | 2020-07-01 |
| 13 | Romania | 119 | 2.1 | 2020-06-26 |
| 14 | Brazil | 117 (+1) | 2.1 | 2020-07-03 |
| 15 | Croatia | 117 | 2.1 | 2020-06-29 |
| 16 | Finland | 111 | 2.0 | 2020-06-30 |
| 17 | Serbia | 105 | 1.9 | 2020-06-30 |
| 18 | Sweden | 98 | 1.8 | 2020-07-02 |
| 19 | Ukraine | 87 | 1.6 | 2020-06-24 |
| 20 | Slovenia | 86 | 1.5 | 2020-07-01 |
| 21 | Turki | 70 (+2) | 1.3 | 2020-07-03 |
| 22 | Switzerland | 68 | 1.2 | 2020-07-02 |
| 23 | Belanda | 66 | 1.2 | 2020-06-19 |
| 24 | Portugal | 58 | 1.0 | 2020-06-29 |
| 25 | England | 57 | 1.0 | 2020-06-30 |
| 26 | AS | 54 (+1) | 1.0 | 2020-07-03 |
| 27 | Iran | 48 (+1) | 0.9 | 2020-07-03 |
| 28 | Lithuania | 43 | 0.8 | 2020-07-01 |
| 29 | Belgium | 42 | 0.8 | 2020-06-25 |
| 30 | Kanada | 41 | 0.7 | 2020-07-01 |
| 31 | Australia | 35 | 0.6 | 2020-07-02 |
| 32 | Estonia | 33 | 0.6 | 2020-06-30 |
| 33 | Greece | 32 | 0.6 | 2019-12-11 |
| 34 | Belarus | 32 | 0.6 | 2020-06-24 |
| 35 | Bosnia dan Herzegovina | 31 (+2) | 0.6 | 2020-07-03 |
| 36 | Austria | 28 | 0.5 | 2020-04-18 |
| 37 | Peru | 28 | 0.5 | 2020-06-30 |
| 38 | Colombia | 27 | 0.5 | 2020-06-18 |
| 39 | Venezuela | 26 | 0.5 | 2020-06-30 |
| 40 | Chile | 23 | 0.4 | 2020-07-02 |
| 41 | Denmark | 20 | 0.4 | 2020-06-03 |
| 42 | Montenegro | 15 | 0.3 | 2020-06-21 |
| 43 | Mexico | 15 | 0.3 | 2020-06-29 |
| 44 | Chinese Taipei | 14 | 0.3 | 2020-05-16 |
| 45 | India | 13 | 0.2 | 2020-06-28 |
| 46 | China | 12 (+1) | 0.2 | 2020-07-03 |
| 47 | Mesir | 12 | 0.2 | 2020-06-30 |
| 48 | Malaysia | 11 | 0.2 | 2020-07-02 |
| 49 | Indonesia | 11 | 0.2 | 2020-04-09 |
| 50 | Scotland | 10 | 0.2 | 2020-05-26 |
| 51 | Ireland | 9 | 0.2 | 2020-06-29 |
| 52 | Jepun | 8 (+1) | 0.1 | 2020-07-03 |
| 53 | Arab Saudi | 8 | 0.1 | 2020-06-20 |
| 54 | Israel | 8 | 0.1 | 2020-07-02 |
| 55 | Uruguay | 7 | 0.1 | 2020-06-17 |
| 56 | Morocco | 7 | 0.1 | 2020-04-25 |
| 57 | Wales | 7 | 0.1 | 2020-06-23 |
| 58 | Norway | 7 | 0.1 | 2020-03-25 |
| 59 | Algeria | 7 | 0.1 | 2020-06-23 |
| 60 | Kazakhstan | 6 | 0.1 | 2019-06-05 |
| 61 | Kuba | 6 | 0.1 | 2020-06-20 |
| 62 | North Macedonia | 5 | 0.1 | 2020-06-24 |
| 63 | New Zealand | 5 | 0.1 | 2020-07-01 |
| 64 | Moldova | 5 | 0.1 | 2020-04-03 |
| 65 | Kenya | 4 | 0.1 | 2020-07-02 |
| 66 | Guatemala | 4 | 0.1 | 2020-04-28 |
| 67 | Azerbaijan | 3 | 0.1 | 2020-06-29 |
| 68 | Bolivia | 3 | 0.1 | 2020-06-22 |
| 69 | El Salvador | 3 | 0.1 | 2020-06-18 |
| 70 | Nigeria | 3 | 0.1 | 2020-07-01 |
| 71 | Mauritius | 3 | 0.1 | 2020-06-28 |
| 72 | Ireland Utara | 2 | 0.0 | 2019-04-16 |
| 73 | Cyprus | 2 | 0.0 | 2018-08-13 |
| 74 | Paraguay | 2 | 0.0 | 2018-06-24 |
| 75 | Cameroon | 2 | 0.0 | 2019-06-13 |
| 76 | Tunisia | 2 | 0.0 | 2019-10-08 |
| 77 | Georgia | 2 | 0.0 | 2020-06-12 |
| 78 | Jordan | 2 | 0.0 | 2020-05-23 |
| 79 | Costa Rica | 2 | 0.0 | 2020-06-12 |
| 80 | Andorra | 1 | 0.0 | 2010-06-01 |
| 81 | Iceland | 1 | 0.0 | 2010-06-01 |
| 82 | Republik Dominika | 1 | 0.0 | 2011-08-09 |
| 83 | Malta | 1 | 0.0 | 2014-04-05 |
| 84 | Rwanda | 1 | 0.0 | 2017-02-04 |
| 85 | Jamaica | 1 | 0.0 | 2019-04-29 |
| 86 | Ecuador | 1 | 0.0 | 2019-06-19 |
| 87 | Filipina | 1 | 0.0 | 2019-09-07 |
| 88 | Afrika Selatan | 1 | 0.0 | 2019-10-18 |
| 89 | Singapura | 1 | 0.0 | 2020-02-27 |
| 90 | Mali | 1 | 0.0 | 2020-04-17 |
| 91 | Dunia Lain | 1 | 0.0 | 2020-05-21 |
| 92 | Thailand | 1 | 0.0 | 2020-06-15 |
| 93 | Korea Selatan | 1 | 0.0 | 2020-06-17 |
| 94 | Honduras | 1 | 0.0 | 2020-06-18 |
| 95 | Swaziland | 1 | 0.0 | 2020-06-22 |
| 96 | Ghana | 1 | 0.0 | 2020-06-23 |
| 97 | Ivory Coast | 1 | 0.0 | 2020-06-29 |
| 98 | Kuwait | 1 (+1) | 0.0 | 2020-07-03 |
| 99 | Syria | 1 (+1) | 0.0 | 2020-07-03 |